Press Room Archive - 2015

Girl Scout cookie prices remain the same for 2016
December 21, 2015
CHESTERTOWN — Girl Scouts of the Chesapeake Bay will not be increasing the price of Girl Scout cookies this year. While some councils have decided to increase cookie prices to $5 per box, cookies on the Delmarva Peninsula will remain at $4 per box for the upcoming cookie season. The price of a box of Girl Scout Cookies is determined individually by each of the 112 local councils. Not all varieties of cookies are available in every market due to the cookies being produced by two commercial bakers, ABC Bakers and Little Brownie Bakers. Local Girl Scouts will start taking orders in January. There will be eight cookie varieties — Thin Mints, Samoas, Tagalongs, Trefoils, Do-si-dos, Savannah Smiles, Rah-Rah Raisins and gluten-free Toffee-tastic. The cookies will be $4 per box with the exception of Toffee-tastics at $5 per box.

DE State Chamber awards GSCB as Superstars in Business for 2015!
Sept. 2015
WILMINGTON, DE (September 15, 2015) The Marvin S. Gilman Superstars in Business Award, named for one of Delaware's leading small business entrepreneurs, honors businesses and nonprofit organizations for their outstanding achievements and model approaches to business and management. Girl Scouts of the Chesapeake Bay (Nonprofit category) This organization serves nearly 10,000 girls in grades k-12 and 4,000 adults on the Delmarva Peninsula. While offering girls and young women personal growth and leadership experience, the Girl Scouts of the Chesapeake Bay also coordinates girl-led community service and programs ranging from science and technology, business and economic literacy, and outdoor and environmental awareness. The GSCB experience aims to promote self-discovery, connecting with others and taking action to make the world a better place.

COMMENTARY: Girl Scouts a great way to get jump start in life
Sept. 2015
"We walk in the doors at 7 p.m. Next, we greet our fellow Girl Scouts and leaders. We walk to the middle of the room and make a circle. I then stand tall with the three middle fingers on my right hand raised and recite; 'I will do my best to be honest and fair, friendly and helpful, considerate and caring, courageous and strong, and responsible for what I say and do, and to respect myself and others, respect authority, use resources wisely, make the world a better place, and be a sister to every Girl Scout." -Read more-
On Delmarva, Girl Scouting can change young lives
Sept. 2015
Thousands of girls join Girl Scouts each year, the majority in kindergarten through fifth grade. I joined at age 5 as a Daisy in one of my local troops, where I stayed for two years. As a Brownie in second grade, I moved to Troop 980, run by Angie Robinson, where I have continued my Girl Scout career.
When I bridged to Junior level in fourth grade, I almost immediately began my Bronze Award, which was called "Operation Kinderbooks." It promoted literacy for entering pre-K and kindergarten students by distributing books and school supplies.
GSCB Celebrates National S'mores Day at the Hyatt
August 11, 2015
Girl Scouts of the Chesapeake Bay won "Sensational S'mores Making Scouts" title by making 384 s'mores in
33 minutes and 27 seconds as part of National S'mores Day on Monday, August 10, at the Hyatt Regency Chesapeake Bay Resort in Cambridge. From left Taylor Michael, Devon Ragolia, Hannah Roon, Olivia O'Neal, Emily Richardson, Maggie Harkins, Sydney Scharf, Canie Harkins, Brooke Tingle and Girl Scouts of the Chesapeake Bay CEO Anne T. Hogan.
Watch What Happens When These Girl Scouts Meet Rachel Platten...
August 2, 2015
Someone who knows a thing or two about trying again is singer-songwriter Rachel Platten. She shared her story, which is the inspiration behind her hit "Fight Song," with four Girl Scouts while filming a new PSA. Touring her recording studio, Rachel and the girls talked about their leadership experiences and finding their voices, and what it means to be strong members of their communities—as Girl Scouts.
S'mores Dip with Girl Scouts from Hyatt Regency Chesapeake Bay
Girl Scouts, Maggie Harkins and Sydney Scharf, make a s'mores dip with Jimmy and Lisa in the kitchen.
National Smore's Day is August 10!
Post your pictures on Instagram using the hashtag #NationalSmoresDay
and be sure to tag @gschesapeakebay!
Girl Scouts in the Kitchen - Delmarva Life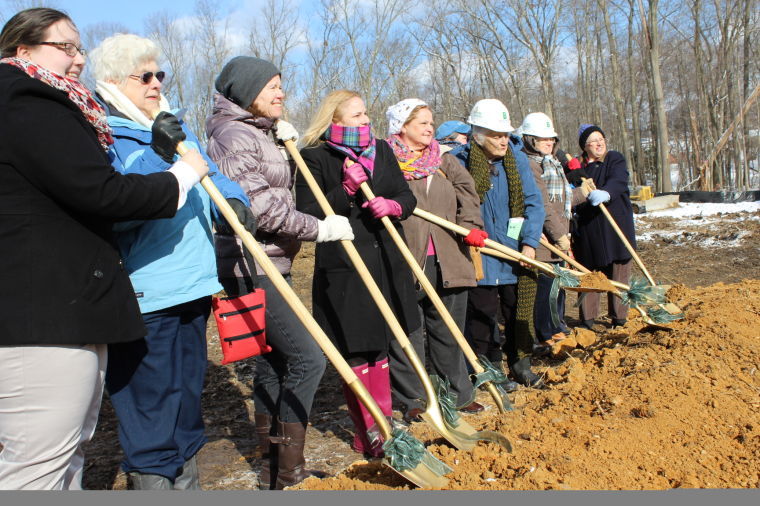 Girl Scouts break ground on new $6.5 million facility
January 7, 2015, Nicole Sullivan, Newark Post – With shovels in their hands and helmets on their heads, officials from the Girl Scouts of Chesapeake Bay (GSCB) braved the frigid temperatures Wednesday to make their first mark on what will be their new home for years to come.
After their 25-year residency on the University of Delaware's South Campus, the Girl Scouts were tasked with finding a new location before their lease expires in December 2015. Lynn Williams, Girl Scouts of Chesapeake Bay project manager, visited 84 locations before deciding on the seven-acre lot on Old Baltimore Pike, near Route 273, east of Newark.
The organization purchased the land from the estate of the Dianich family. Catherine Dianich Gruver, executor of the estate, felt it was important to sell the property to true stewards of the land, like the Girl Scouts, rather than turn the space into a housing development. "We couldn't think of a better use for it," her son, Zach Gruver, said. -Read more-
View other photos on our Facebook page!